Tiong Ang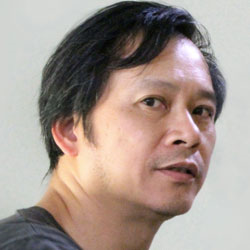 Tiong Ang is an image-based painting, installation, performance and video artist. His approach unfolds human perception and social behaviour. In recent experimental films and live happenings, he orchestrates clusters of people as social mediators, guiding subjective perspectives within collective conditions, with a focus on ethnic and socio-cultural patterns. His practice revolves around the emotional and existential concerns of dislocation, disparate identities and the dispersion of images. Complex and collaborative projects like 'The Second Hands', 'Misconceptions of the Lyrical Cube', and 'Universality -Decorum of Thought and Desire' articulate concerns in the conflicting multiplicities of human nature. He uses acts of play and reenactment as well as personal, ambiguous mediations of individuality, situating them in changing urban, physical and temporal environments.
Tiong Ang has participated in numerous exhibitions worldwide, including the 49th Venice Biennale in 2001 (Plateau of Humankind, curated by Harald Szeemann), Biennials/Triennials of Shanghai (2008 and 2004), Tbilisi (2012), Guangzhou (2015), Yogyakarta (2013), Auckland (2004), Istanbul (1995) and Havana (1994). His works are in the collections of Stedelijk Museum Amsterdam, Van Abbemuseum Eindhoven, Museum of Modern Art Arnhem, Museum van Hedendaagse Kunst Antwerpen and other public collections.
He teaches in the MA Fine Art at the HKU University of the Arts Utrecht.

tiongang.com
whatisuniversal
Expodium
Expodium is an urban do tank. Expodium is a collective of three: Nikos Doulos [artist, DAI, Walking Club Rietveld], Friso Wiersum [historian, European Cultural Foundation, IMPAKT tv], Bart Witte [artist, consultant freelance]. They work together in Expodium since 2012.

Through artistic research they produce insights on urban areas and often activate that same areas and their users. Walking holds a predominant part in their practice, including night-walking. They document, archive, contextualize and publish.
They work with an international network of artists, architects, academics and the likes for mutual brain-picking.

They teach and (un)learn. They listen and curate. They stroll and awe.
Christina Della Giustina
Christina Della Giustina is an artist, researcher and scholar. She completed her practice-based PhD at the Slade School of Fine Art, University College London, UCL, on notions of listening to more than human worlds. Her work involves translating, composing, listening, playing, reading, drawing, attending, performing, thinking, writing, speaking as relational political ecologies of becoming plural.
Through time- and site-sensitive transdisciplinary encounters with different form of knowing, framing and sensing, the work builds on attention, relation, translation, dialogue, animation and participation. It engaged in public discourses at a.o. Vondelkerk, puntWG and former Montevideo, Amsterdam; Tent, Rotterdam; MUHKA Antwerp; Rangasthala, Rangoli Metro Art Centre, Bengaluru; Haus der Kulturen der Welt, Berlin; Wobourn, Chisenhale Dance Studio and Goldsmith, London; Colloredo-Mansfeld Palace and Villa Šaloun, Prague; Theater na Orlí, Brno; SFAI San Francisco Art Institute; Bird's Eye, Basel; Jazz Festival Montreux; Museum zu Allerheiligen and Kulturzentrum Kammgarn, Schaffhausen; Naïrs Center for Contemporary Art, Scuol; Ferme d'Asile, Sion and Primary School, Leuk; WSL, Birmensdorf; Kunsthalle, Botanical Gardens and Shedhalle, Zurich.
Christina Della Giustina is a lecturer at the University of the Arts HKU in Utrecht and the mother of a 9-year-old son.

dg-c.org
Christina Della Giustina on Vimeo
Arts Cabinet
ARIAS Amsterdam
Van wie is de wereld? Museum de Fundatie
Nancy Jouwe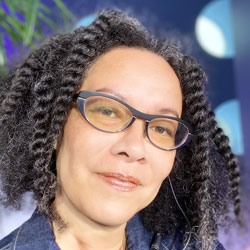 Nancy Jouwe (Delft, 1967) is a cultural historian and works as a freelance researcher. She teaches at the University of the Arts in Utrecht and the Council On International Educational Exchange. Previously, she fulfilled several management positions in the non-profit sector (philanthropy and arts).
Jouwe studied Gender Studies and Cultural History at Utrecht University and York University (UK). She (co-)published nine book titles and wrote several articles on postcolonial cultural and social movements and practices and the Dutch history of slavery. Titles include Netherlands Slavery Heritage Guide (LM Publishers, 2019), Amsterdam en de slavernij in Oost en West (Uniekboek/Spectrum, 2020), Gendered Empire (Verloren, 2020) and Revisualising Slavery (LM Publishers, 2021). She is the chair of BAK Basis voor Actuele Kunst, co-chair of Mama Cash and co-founded Dutch art-platform Framer Framed.

Annette Krauss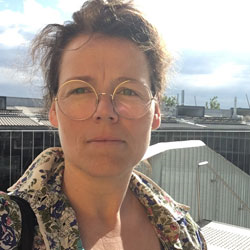 Annette Krauss works as artist, writer and educator. In her research-based practice she addresses the intersection of art, politics and everyday life with a focus on institutional responsibilities, (un)learning economies, and questions of privilege. Her work revolves around informal knowledge and normalization processes that shape our bodies, the way we use objects and concepts, engage in social practices and how these influence the way we know and act in the world. Her artistic work emerges through the intersection of different media, such as performance, video, historical and everyday research, pedagogy and texts.
Annette Krauss has (co-)initiated various long-term collaborative practices: Hidden Curriculum / Sites for Unlearning / Read-in / Read the Masks. Tradition is Not Given / School of Temporalities. These projects reflect and build upon the potential of collaborative practices while aiming at disrupting taken for granted truths in imagining and living forms of collectivity.
Currently she holds an Elise-Richter-Peek post-doc position at Academy of Fine Arts in Vienna, and is course leader of the Master Fine Art program at University of the Arts (HKU), Utrecht.
Katia Krupennikova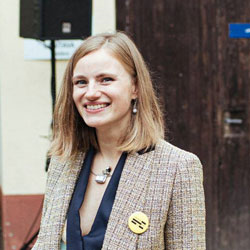 Katia Krupennikova is a curator and art critic. In 2019/20 she was a fellow at BAK—basis voor aktuele kunst, Utrecht (NL), where she started her ongoing research project States of Anxiety, Minds for Care, in which she analyzes the political dimension of anxiety. Krupennikova was the curator of the 11th edition of Survival Kit Festival in Riga (LV), Being Safe Is Scary, 2020. In 2019 she was a member of the core curatorial group of the Bergen Assembly, Actually, The Dead Are Not Dead, Bergen (NO). In 2015, she won the Akbank Sanat International Curator Competition. The exhibition Post-Peace, intended to take place in Istanbul (TR), was censored by the host institution; it subsequently opened in extended form at Württembergischer Kunstverein, Stuttgart (DE), 2017, and Nest, The Hague (NL), 2017. Recent projects include Imogen Stidworthy. Dialogues with People, co-curated with Hans D. Christ and Iris Dressler, Württembergischer Kunstverein, Stuttgart (DE), 2018–2019; and It Won't Be Long Now, Comrades!, co-curated with Inga Lāce, Framer Framed, Amsterdam (NL), 2017.
Falke Pisano

Falke Pisano's practice spans sculpture, installation, performance, video work and artist publications. She considers her practice as a way of public thinking about/in the world with a particular focus on how certain enduring ideas, divisions, institutions and systems have developed (historically, culturally) and how artistic practices might play a role in questioning and challenging them.

"I am interested in how we come to know the world, how we develop the capacity to look at this world critically, to be able to tolerate more and more complexity, and to adjust our worldview (and self-image) again and again. How, by constantly thinking and speculating about our position and capacity to act within this world, we can develop methods, interventions and forms of organisation that go beyond merely aesthetic and representational proposals, but still carry the power of the imagination and in which it remains possible to connect in unexpected, or in non-optimised functional ways, different modes of thinking (theoretical, poetic and practical) and acting (imagining, articulating, moving, organising, making, doing)."


falkepisano.info
whereshouldwebegin.info
Domeniek Ruyters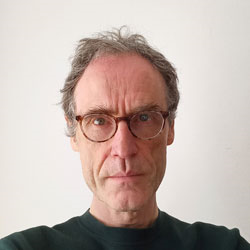 Domeniek Ruyters is chief editor of Metropolis M, the Dutch art magazine and website on contemporary art. He has been an art critic for more than twenty years and writing on a wide variety of subjects that has been published in magazines, catalogues and books in the Netherlands and abroad. For seven years he was regular contributor to De Volkskrant. Next to his writing he has been an advisor for several organisations and municipalities and member of numerous jury's. Before he started at the magazine he worked as a curator at Stroom The Hague and Gemeentemuseum Den Haag. He also has been teaching at universities and art schools in the Netherlands and is lecturer at the HKU MAFA since 2012. He has been educated as an art historian.

metropolism.com
metropolism_mag
Manju Sharma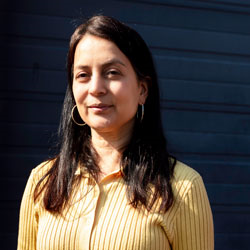 Manju Sharma (b. India 1972) is a visual artist and writer. She was brought up in the UK, and now lives and works in Zeist, The Netherlands. In her art-practice, Sharma is developing the concept of 'never leaving never arriving' through the examination of colonial heritage, mental-health and partition and by practicing modes of care and speculative healing. Through the personal, and the everyday, she unfolds narratives embedded in social and geopolitical landscapes. She uses autobiography as a methodology for story-telling in the visual arts to focus and explore the self and its relatedness to the world that she wishes to grasp and care for. Her work touches upon the use of reading atmospheres to unfold everyday sensitive issues that can allow people to find their voice. The aim of her work is to find hidden narratives in story-telling practices, to develop one's own being and identity, to demonstrate fluidity of our borders both external and internal, and providing care at thresholds of metamorphosis. Her art practice offers mental escape routes, where the spiritual and speculative healing, through the performance of care, brings courage and hopefulness when 'never leaving never arriving'.

manjusharma.nl
manjusharma_art